Kitchen Cabinets
CUISINE KITCHEN - EDITION 18
Purchasing a new fitted kitchen is something very special, and it should be planned carefully. Indeed, before begin planning, you need the right inspiration and reliable information regarding all aspects of your kitchen. In our current Kitchen journal, we provide you with plenty of suggestions and ideas to help you create your dream kitchen. We will show you different types of kitchens, superb decor elements, colors and finishes, special architectural solutions, high-quality kitchen technology and versatile accessories. We will help you to be well-informed before you begin planning the details of your kitchen with your kitchen specialist.

Discover the variety and the design possibilities contained in our latest kitchen collection. Whether you are looking for a designer kitchen or one that is modern and inviting, a kitchen inspired by nature or with the look of a modern cottage - we are sure you will find your favorite here.

We hope you enjoy reading latest journal.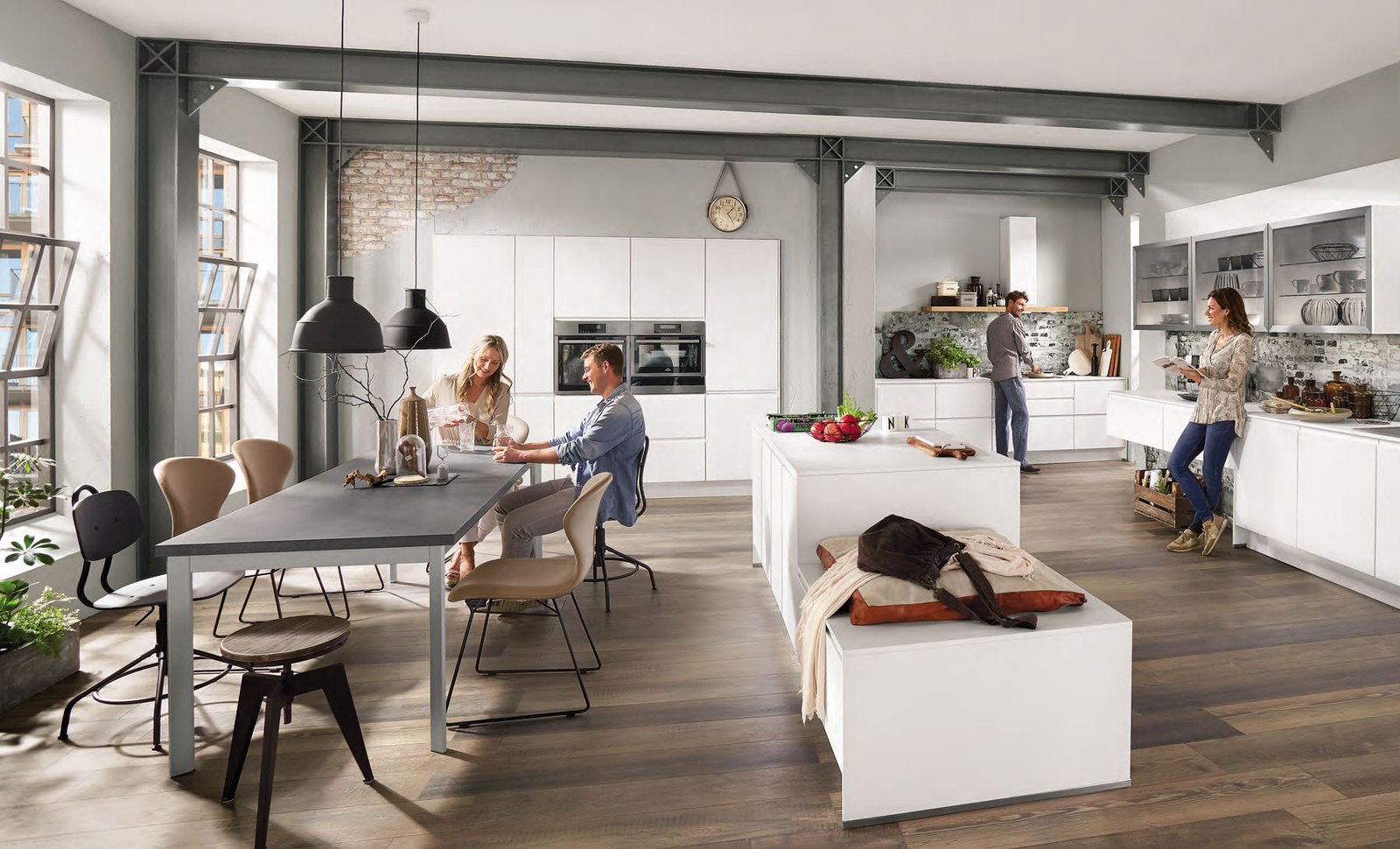 INLINE
Clean lines, exquisite materials and clearly structured architecture, this is what distinguishes our designer kitchens. The smooth, uncomplicated finishes make quite the impression, even in open-concept kitchens for a straightforward lifestyle with a modern flair.
Connoisseurs of puristic design are well served with our handless LINE N kitchens. Here, the integrated recessed handles take the lead as the horizontal stylistic element that sets the tone for the new kitchen.
RIVA
Industrial style interiors have an appeal all of their own, that certain, indefinable something special. The design – with its rough brick, combination of matt lacquer fronts and Slate grey table top with a concrete appearance, real wood floor – perfectly embodies an urban vibe. And you don't even need to move into a warehouse to experience industrial chic! Our niche claddings with digitally printed motifs lend an industrial touch to even small rooms.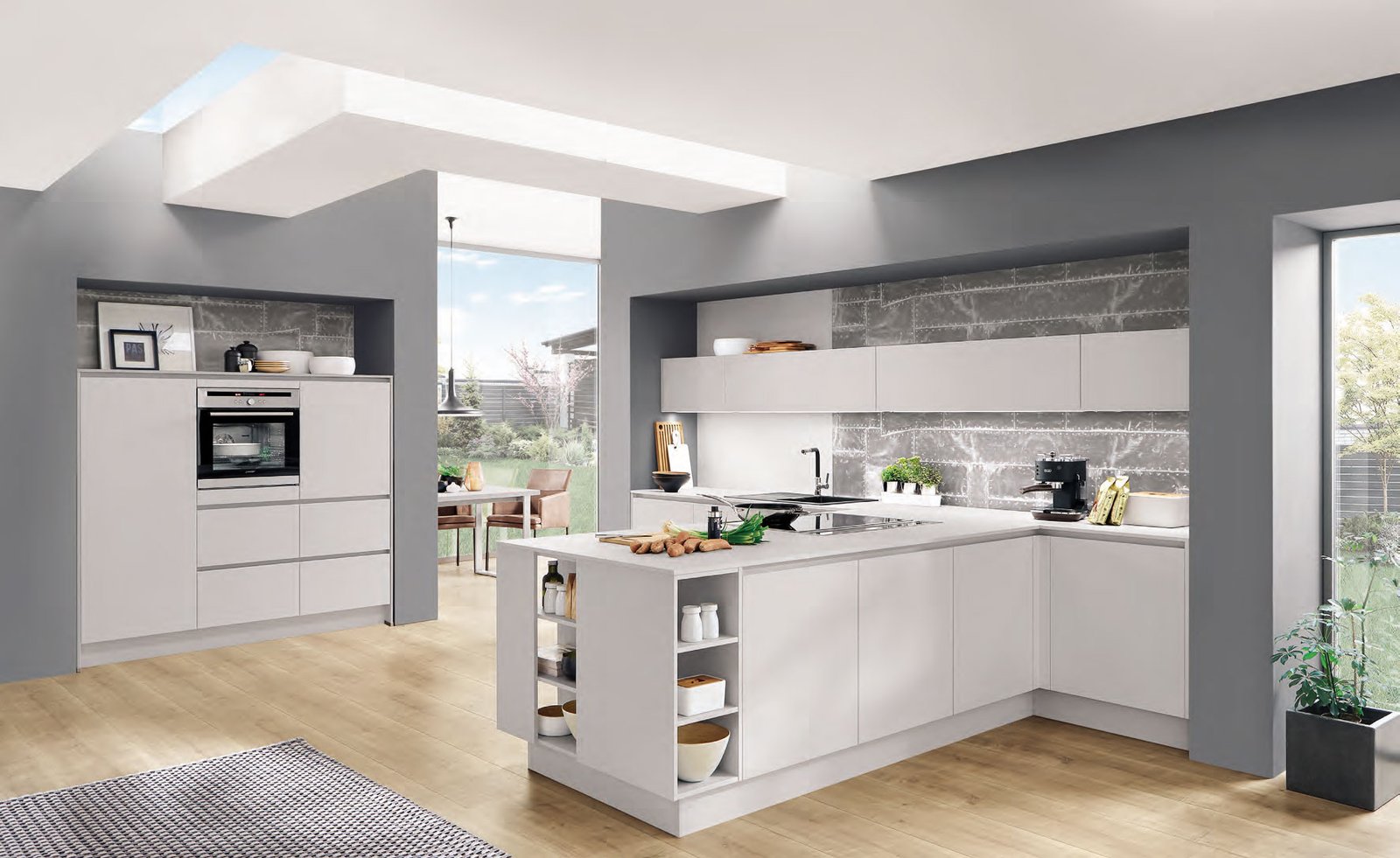 FASHION
Concrete has established itself not only in architecture, but also in interior design. The fronts in an authentic-looking concrete look are an interesting and easy care material alternative for the kitchen and living area and convey a modern urban feel. Combining shelves in light-coloured wood décors with select colourful kitchen accessories creates a harmonious overall atmosphere.
STRUCTURA
Where does the kitchen end, where does the living room begin? In this suggestion, the kitchen and living area share a perfect symbiotic relationship. The upright shelf system can be individually planned, enabling a wide variety of combination possibilities and lending this markedly puristic kitchen an inviting touch. Furthermore, it offers additional space for arranging accessories, books, etc, etc, etc.
FEEL
If you would prefer to avoid short-term interior design trends in favour of timelessly modern kitchen styles, which can be enjoyed for many years to come, then light, monochromatic décors are just the ticket for you. Whether you are inspired by a spotless tone on tone design or a balance of fascinating accents in glass colours and worktop décors – the possibilities are virtually endless.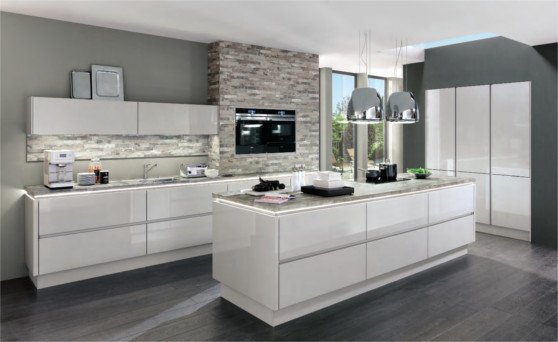 FOCUS
Kitchen design according to the "modular principle" allows much leeway for both large and small floor plans. The result is an informal kitchen Layout with separate dining area and well thought-out functional solutions and storage options. The effectively placed accents in Concrete slate grey reproduction lend this lacquer kitchen a modern character.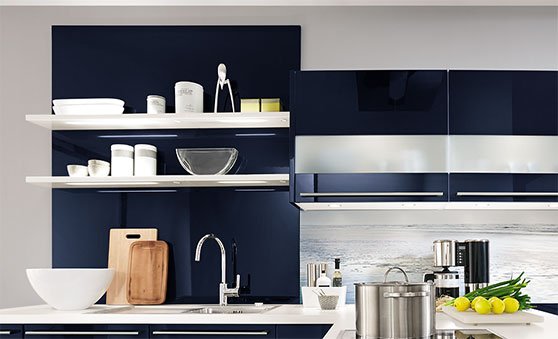 FLASH
High gloss surfaces in lacquered laminate, lacquer or real glass make our kitchens the highlight of your home. And all this is completely independent of the size of your kitchen. Whether you choose a closed kitchen, you have room for a spacious island solution or whether you prefer a design that opens into the living area – here, there are no limits to your personal creativity. The sophisticated kitchen system, the variety of exquisite materials and material combinations and the top of the line quality kitchen technology invite you to be creative in designing your dream kitchen.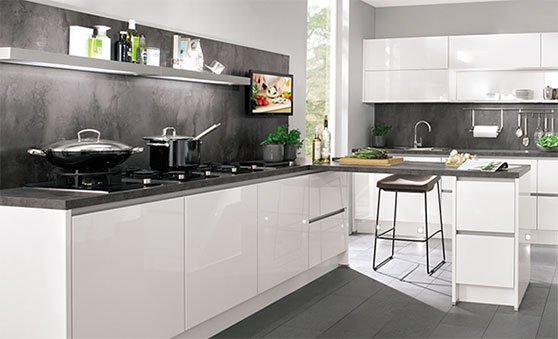 LUX
The trend for lacquer kitchen fronts continues unabated. Rightly so, we think, since this material produces an excellent surface quality and an amazing texture. Whether in a matt or high gloss versions, such as in these elegant kitchen design suggestions, lacquer fronts turn your kitchen into a visual highlight with a timeless look.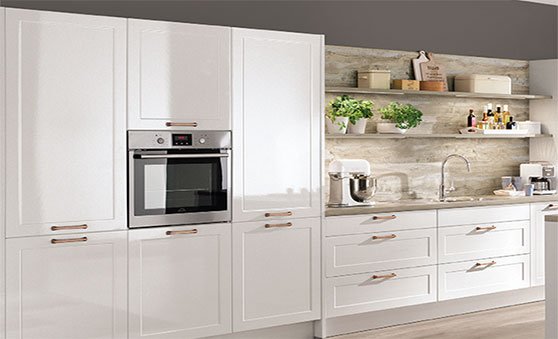 TARGA - VETRA - XENO
With our kitchen system, and an extensive range of accessories and innovative kitchen technology, we offer a wide selection of sophisticated and wonderfully practical
ideas that make daily life and work unmistakably pleasant and functional. Whether for small or large floor plans – we always have a solution that is just the right size for you.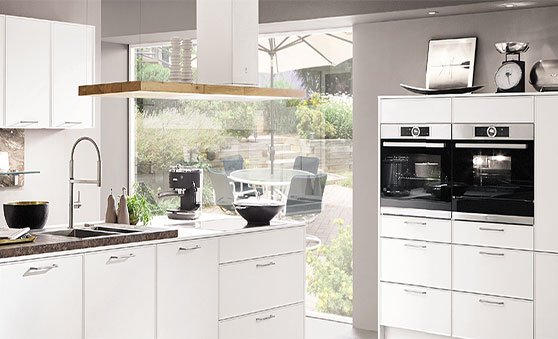 FINESSE
The Alpine white lacquered laminate fronts navigate smoothly between modern and classic design. Sleek like a smooth front, yet finely contoured like a framed front, they offer a wide playing field for totally individualised designs. Here, the combination with Paladina marble décor provides a special, classic note. The ultra-narrow railing handle suits the fine outer contour of the fronts.
CHALET
Allow us to captivate you with the painstaking attention to detail in these classic kitchen designs in genuine lacquer. These cottage style kitchens become beautiful little gems thanks to handles with a distressed character, lighting with a nostalgic touch, finely crafted framed glass doors with antique inlay or wickerwork basket pull-outs.
Color Concept
In recent years our COLOR CONCEPT has helped many kitchens become brighter, fresher and bolder. Expanding this colour and décor system has allowed us to take creativity to the next level. An extensive range of open shelf units, niche claddings, upright panels, flap door wall units and much more make it easier than ever to design kitchen solutions with even greater versatility and personalisation. Unleash your creativity and bring a touch of colour to your kitchen!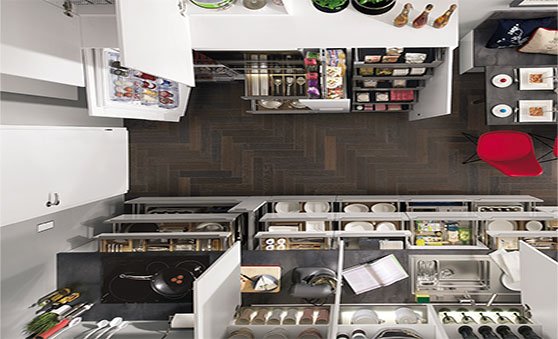 KITCHEN STORAGE WONDER
What is the best way to organise my base units, how many cutlery trays do I need, which waste separation system should I choose, what is more practical here – a larder unit or a pantry unit with internal pull-outs? You will find plenty of suggestions and ideas for outstanding kitchen organisation on the following pages.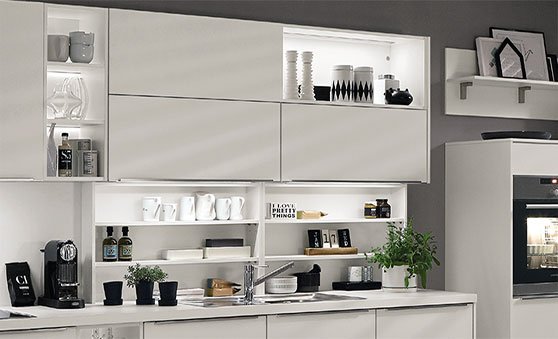 KITCHEN LIGHTS
An optimum lighting plan is indispensable in the kitchen, because not all lighting is created equal! The right lighting concept supports optimum working conditions and effectively showcases the new kitchen. The following aspects should always be taken into account when planning lighting: Ensure that work area lighting is uniform and shadow-free as much as possible in order to optimise day-to-day tasks in the kitchen. In addition to general room lighting, creating additional small islands of light mainly near the seating areas in the kitchen makes for a homely and comfortable ambience. Thanks to efficient LED technology and modern control options, this can be realised simply and costeffectively. For more lighting inspiration please refer to the following pages.